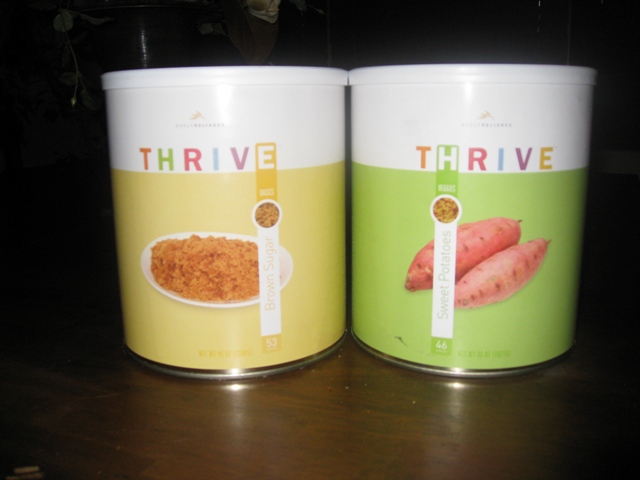 Most people are familiar with the fabulous can-rollers offered by Shelf Reliance to organize and rotate canned food storage, but you may not be aware that this company also offers a line of food storage products now.  This line is called THRIVE.  I love these products for several reasons, but especially because Shelf Reliance shares my philosophy that food storage should be EATEN (why does that seem like an oxymoron to some people?).  Every can includes at least one delicious recipe for its use, so there is no excuse not to incorporate these products into your family menus.  The cans are color-coded for the basic food groups, which makes finding what you need in your storage room even easier. 
Another factor that I love about THRIVE is that their products contain no MSG (an additive often included in long-term food storage items that gives my husband and many others headaches).  Per the Shelf Reliance website, the ingredients that are included are top quality.   I like that THRIVE offers more food variety as well, with #10 cans of sweet potato dices and freeze dried berries.  They also offer basics like brown sugar, which I am often asked how to can.  Shelf Reliance was kind enough to send me samples of the sweet potato dices and brown sugar.  As a baker, I had wondered how I could store brown sugar for my favorite chocolate chip cookies, so I was thrilled that THRIVE had figured it out for me.  The sweet potato dices can be used for any traditional Thanksgiving recipe, but THRIVE included a yummy recipe for sweet potato muffins on the side of the package, which provides an easy-to-rotate alternative. 
The Shelf Reliance website offers a link to help families customize and calculate their food storage needs and at present is offering a coupon for 20% off through January 3rd.  (Use coupon code SAVE20 at checkout).  Shipping is free for orders over $99, and if your order doesn't total enough you can gather your friends to total up a bulk order that is at least that amount.  Shipping is often the factor that discourages online shopping for food storage items due to their weight, so I think the free shipping offer is really nice.  And, my samples arrived nicely packaged in sturdy packing boxes. 
If you have any questions about THRIVE products, check out their user friendly website, and start planning your food storage additions for 2009!