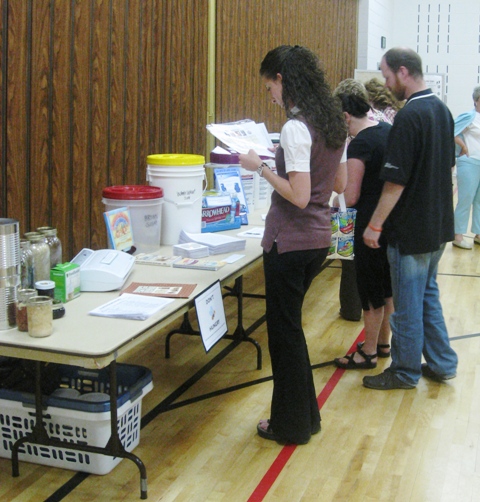 I hosted a Preparedness Night last month.  The goal of our night was to give an overview of preparedness principles, and to motivate those in attendance with new ideas for their food storage and preparedness goals.  For any Preparedness Coordinators out there who may be organizing a similar event, I thought it might be helpful to see some ideas I used.  (I know I appreciated the ideas I found online.) The internet is a wealth of preparedness resources, so I spent some time researching ideas and came up with a "BEE" PREPARED theme.  I advertised the event with posters and flyers that read like this:
"Our Church leaders have been buzzing about preparedness for decades now, so how prepared is your hive?
PREPAREDNESS NIGHT & POTLUCK DINNER
DATE / TIME / LOCATION
Sting your preparedness goals with sweet ideas to help you feel more self-reliant.  We will have a guest speaker and great handouts on food storage, gardening, first aid and emergency response that will help you stick with your goals.
HONEY, BEE THERE OR BEE…UNPREPARED!!
Please bring a potluck dish to share using at least one ingredient from your food storage."
The decor for the night was VERY plain (after all, we're talking about back-to-basics type principles and food storage just isn't very glamorous!) On the walls I taped posters with quotes on preparedness and a large beehive.  I had the following displays and handouts set up on tables for guests (They were actually in a different order down the tables, but anyway, here they are…):
I copied 4 Family Home Evening lessons on preparedness so that families could get their members on board with preparedness goals.  These lessons had great information on the reasons to prepare, and inventories to get them started.  I also put out sign up sheets where guests could include their names under given skillsets (like construction,  medical training, education, etc.) that could be useful in the event of a disaster so that we can mobilize and help one another. There was also a sign-up to be included in a preparedness e-mail list.
DON'T BEE HUNGRY (food storage):  You can see some of this display in the photo above.  (I'm sorry there aren't better pictures to post.  I was busy answering questions that night and forgot to take more pictures.)  The display included #10 cans, food storage buckets with gamma lids, a FoodSaver vacuum sealer, half-gallon mason jars to demonstrate the jar attachment for the vacuum sealer, jars of jam and jelly, and food storage cookbooks. 
Handouts included copies of Wendy DeWitt's fireside burned to DVD and printouts of her "Everything Under the Sun" booklet (everything-under-the-sun-20081), and  a 52 Week Food Storage Plan (http://pgward.org/ep/wp-content/uploads/2009/02/weeklypurchasingplan-new.pdf),
BEE GREEN (gardening): Vegetable seed packets, a color photo of my trash can potatoes, and these quotes on small easels made up the display: "There are blessings in being close to the soil, in raising your own food, even if it is only a garden in your yard and a fruit tree or two.  Those families will be fortunate who, in the last days, have an adequate supply of food because of their foresight and ability to produce their own.–Ezra Taft Benson, October 1980."
"An almost forgotten means of economic self-reliance is the home production of food.  We are too accustomed to going to stores and purchasing what we need.  By producing some of our food we reduce to a great extent, the impact of inflation on our money.  More importantly, we learn how to produce our own food and involve all family members in a beneficial project.  No more timely counsel, I feel, has been given by President Kimball than his repeated emphasis to grow our own gardens.  Here is one sample of his emphasis over the past seven years: 'We encourage you to grow all the food that you feasibly can on your own property.  Berry bushes, grapevines, fruit trees–plant them if your climate is right for their growth.  Grow vegetables and eat them from your own yard.' –Pres. Ezra Taft Benson, Ensign, May 1976, p. 124"
The handouts for this table were a local planting guide (you can get these for your area from a local university extension office or nursery), and directions for trash can potatoes: trash_can_potatoes .
BEE THRIFTY ("Fix it up,wear it out, make it do or do without!"):On this table, I had smart shopping tips, instructions for couponing (matching coupons with weekly sales), and I asked a woman in my ward to display her quilts and handmade children's clothes to demonstrate thrift and industry.
BEE WARM (Fuel storage, blankets, and light):  On this table, I had blankets, flashlights, glow sticks, and (I intended to have…) charcoal, an oil lantern, and propane cans.
DON'T BEE THIRSTY (water storage): On this table I had a case of water bottles and a sign that said, "If this is what your water storage looks like, you are going to be thirsty!"  I had a printout for building water drum racks for your garage and also a printout from www.surewater.com that showed upright water storage tanks as one option for home water storage. (The Family Home Evening Lesson packets had info on calculating amounts of water to store.)
BEE READY:  For this display, I asked my friend to bring her awesome 72 hour kits to display.  She organizes her equipment into 5 gallon buckets–one for kitchen / food items, one for bathroom items, and one for first aid items.  I will try to get a copy of her lists to post the contents of her buckets.  I also copied this printout of an excellent 72 hr. kit checklist: http://pgward.org/ep/archives/120
BEE HEALTHY:  This table included information on first aid kits, reminders to store an extra month of prescriptions and vitamins. (One of our guest speakers gave detailed information on what to include in a home first-aid kit.)
The guests milled through the information on the displays and picked up handouts, then we enjoyed the potluck dishes made from food storage items (everything was delicious!).  Our guest speakers, a search and rescue EMT and a County Emergency Response Coordinator, wrapped up the night.  I have received good feedback from the event, and felt like it was a great jumpstart to preparedness goals.
Tags: emergency preparedness, food storage, food storage blog, LDS, ward preparedness night