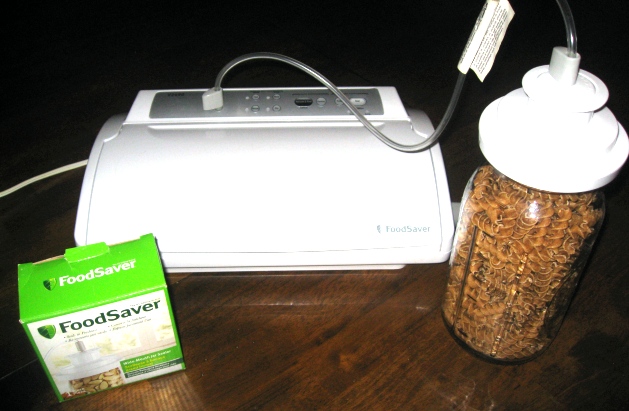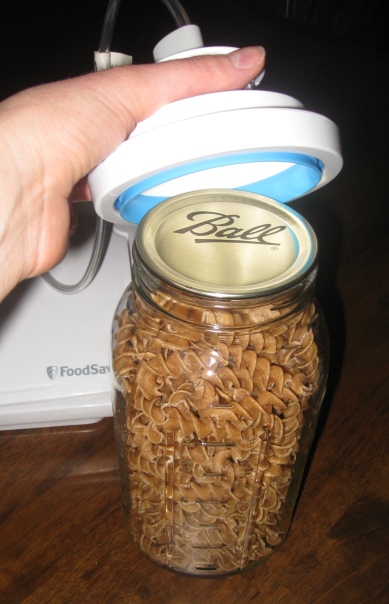 Our FoodSaver Vacuum Sealer has become one of our most-used appliances.  We use it to extend the life of everything from dry pasta to salad greens.  Saving salad was what first seduced me into my purchase.  When I prepare salads, they tend to grow to large-party sizes and I was guilty of wasting a lot when my family failed to eat them fast enough.  Now I package up meal-size salads and am able to keep the salad fresh at least twice as long.  I have a new favorite use for the FoodSaver now though.  Since I like to cycle through all of my food storage items, I don't wait for disaster to strike before I open a #10 can of dehydrated food.  However, the time starts ticking for the shelf life of that item once it is opened.  I've found that I can pour the remaining product from my #10 cans into large half-gallon mason jars and then vacuum seal a canning lid to the jar to prolong the life of these products.   Then I can use the product when I need to, but remove the air and seal the lid on again and again.  This works well for brown sugar as well.  You need a "jar attachment" to do this.  They are available in wide mouth and regular mouth to fit both sizes of canning lids. 
If you want to prolong the life of powdered items like powdered buttermilk, powdered sugar or baking soda, place a plastic bag into the jar (AP bread bags are perfect for this), fill the bag with the product, twist the bag closed and press down into the jar.  Then seal the canning lid to the top of the jar.  This prevents the FoodSaver Vacuum Sealer from sucking the fine powder into itself which can gum up the machine and damage it.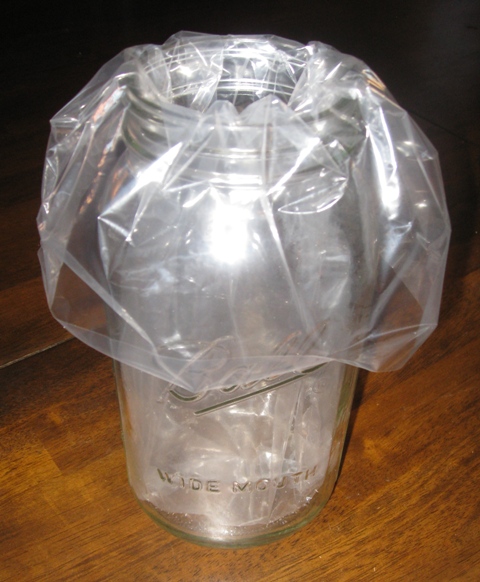 Here's one of our favorite recipes to use with the wheat rotini shown in the bottle above:
CURLY NOODLE SOUP
2 stalks celery, sliced
1 onion, chopped
3 cups chopped carrots
5 cups diced potatoes
4 chicken bouillon cubes
4 cups water
4 cans cream of chicken soup
1 16 oz. carton sour cream
1 12 oz. pkg. rotini pasta, cooked al dente and drained
Cook vegetables, bouillon cubes and water until veggies are tender.  DON'T DRAIN.  Add soup, sour cream and cooked noodles.  Heat through being careful not to scorch on bottom.  If soup is too thick, add milk.  This makes a large batch.  It's fantastic served with warm, homemade rolls and makes a great meal for company.
Tags: food saver, food storage, FoodSaver, jars, shelf life, soup recipe, vacuum sealer