I pride myself on being a "from-scratch" kind of girl.  I like to know exactly what goes in to my recipes and alter nearly everything I bake to reduce fat or attempt to make it healthier.  However, certain life events (read: pregnancy bedrest and exhaustion) can cause a gal to throw caution to the wind and purchase mixes for muffins, cakes, brownies and yes, even cookies (oh, the shame!) to keep her family happy.  I have to admit, some were so tasty I bought more after the baby was born and plan to keep them in my pantry for any time I just don't have the energy or time to bake from scratch. 
And, sometimes mixes can be more than just handy.  If they just call for water, they can be a great addition to pantry storage for those times when you are out of eggs.  Mixes will last at least twice as long as their printed expiration date if you keep them in the freezer too.  Check back for recipes I'll be posting to make your own mixes from food storage items.  You can spend a couple of hours making your own mixes and then have them handy to prepare in minutes on busy days.
Previous posts have proven me a fan of Alison's Pantry products and their mixes were no exception.  Here are a few of my favorites:
Sweet Potato Pancake Mix–I love this escape from the typical buttermilk pancake mix.  It's a great mix for the obvious, pancakes (or waffles), but it can be used as a base for other recipes as well.  My favorite is the recipe below from the AP website for a chewy, loaded oatmeal cookie that is really delicious warm from the oven.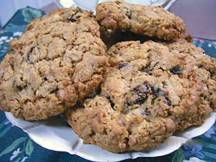 SWEET POTATO RAISIN NUT NIBBLES
Description:
Blend:
3/4 cup soft shortening
1 1/3 cups brown sugar
2 eggs
1 tsp. Sweet Vanilla Powder (#1534)
Add and Mix well:
2 cups AP Sweet Potato Pancake Mix (#1967)
1/8 tsp. baking soda
1/2 tsp. salt
1 tsp. Saigon Cinnamon (#3892)
1/4 tsp. nutmeg (#1010)
2 cups old fashioned oats
1 cup each: raisins, nuts and semi-sweet chocolate chips (#1186)
Bake on a greased or lined pan in a 350º oven for about 15 minutes. Yield: 2 1/2 dozen, large cookies.
AP Pumpkin Chocolate Chip Cookie Mix—I love anything pumpkin and often make pumpkin chocolate chip cookies from scratch, but this mix is the closest thing to homemade when I'm in a hurry.  The cookies are that delightful blend of spice and chocolate, and they bake up fluffy and tender.  I love them fresh out of the oven while the chocolate chips are still gooey.  The fabulous spicy smell in your kitchen (for a fraction of the work) is just an added bonus!
I saved the best for last.  Alison's Pantry Marvelous & Chewy Macaroon Mix. The Alison of Alison's Pantry calls these her favorite and one bite will tell you why.  As the name suggests, these cookies stay chewy and they are DELICIOUS!  I didn't even know I liked coconut this much!  Unfortunately, my family didn't either.  I found myself hiding ziploc bags-ful of them as my own little hoard.  The picture on the bag shows the cookies half dipped in chocolate which looked like bliss to me, but I could never slow the consumption of them long enough to try this variation.  Needless to say, I have ordered more.  The mixes are on sale this month in the AP catalog.