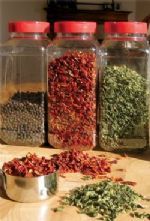 I've decided once you try dehydrated, you don't go back.  I actually feel spoiled by the convenience of using freeze dried and dehydrated fruits and vegetables in my cooking.  My latest favorite is dehydrated green peppers.  My children used to remove green peppers from any food I sneaked them into.  Recently one of my daughters started requesting them on her pizza, so I thought the pepper may be making a comeback.  I wasted no time trying to find recipes to incorporate the flavorful green veggie, but it seems I was out of the habit of buying green peppers.  I always forgot to pick one up at the grocery store.  Enter dried bell peppers!  The photo above shows the Alison's Pantry Dried Green Bell Peppers that I now keep at the ready.  Life just got more flavor!  I love these things!  Not only are they always available for my recipes, but I love that these ones are in 3/8″ dices.  They are nice and small so my more-picky children don't notice what is making their food taste so good.  And this saves me the time of washing, chopping and disposing parts of the pepper.  (I am all about making dinner fast, as I still have an infant on my hip 90% of any given day. ) Although they won't work well in green salads, they are great for pasta salads, spaghetti sauces, and two great recipes I am including below.   The shelf life is at least a year, but you can vacuum seal the unused dices in a mason jar or freeze them to extend the lifespan.  The Alison's Pantry Peppers come in 1/2 lb. bags which are a great size to experiment with before you dive into a full #10 can. 
TOMATO STEAK
2-3 lb. chuck roast
salt and pepper to taste
1 medium size onion, diced
1/4 green pepper, diced (I just sprinkled in dried peppers to my liking)
2 carrots, grated
1 Qt. tomato juice (I used a jar of home-bottled crushed tomatoes)
Place chuck roast in crock pot and sprinkle with salt and pepper.   Cover with onion, green pepper and carrots.  Then pour tomato juice over all.  Cook on low for about 8 hours. (This can be done in a dutch oven in a 325-350 degree oven for 3-3 1/2 hours also.)  When cooked, the meat should shred nicely.  Thicken the sauce for gravy.  Serve over warm mashed potatoes.  We added some of the Alison's Pantry Beef Gravy base to the gravy for more flavor and to help with thickening.  It was delicious.
Kudos to my friend, Amy, who shared this great standby recipe that can incorporate several food storage items if desired.
GREEN SAUCE PASTA
Start 1 pkg. bowtie pasta boiling.
Combine the following 3 ingredients: 
2 TBSP. parsley flakes
2 TBSP. basil
1/4 cup butter, melted
Then add:
1 8 oz. pkg. cream cheese
1/4 c. parmesan cheese
1/4 c. olive oil
1 clove garlic, minced
1/2 tsp. pepper
2/3 c. boiling water
After mixing, stir in cooked shredded chicken (leftover rotisserie works well), and any steamed or sauteed veggies you like.  We like to saute zucchini, yellow squash, broccoli, red and green peppers, onion, and mushrooms. (The rehydrated peppers make one less item to wash and chop.)  Combine all ingredients with cooked bowtie pasta and toss well. This is a delicious recipe!  Amy often takes it to friends when they need a meal.  (That's how I first had the privilege of trying it!)
Tags: Alison's Pantry, dehydrated vegetables, dried peppers, food storage, FoodSaver, vacuum sealing