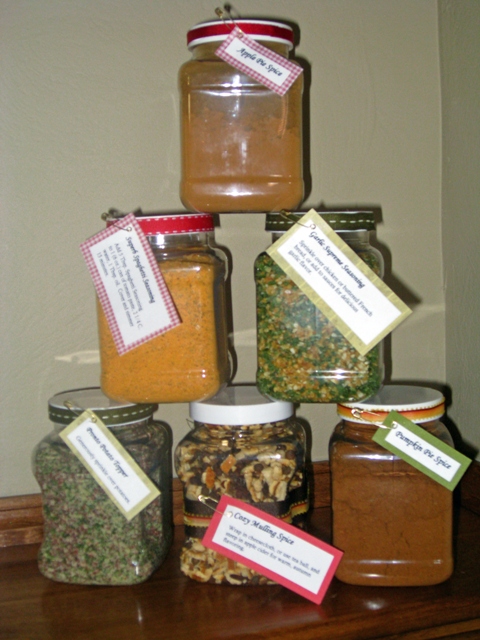 For the baker on your gift list, a gift of fresh spices is both thoughtful and practical.  These cute 16 oz. jars are available from Alison's Pantry for $9.99 per dozen and can be filled with homegrown, dried, crushed herbs or purchased bulk herbs or spices.  The jars above are a Christmas gift for my grandma, who is a fabulous cook.  I hot glued ribbon around the lids and attached labels made from scrapbook cardstock with safety pins for a cute country look.  I think spice blends are fun and multipurpose, so I included these great spices from Alison's Pantry:
Garlic Supreme:  a blend of minced garlic with chives and parsley that has so many uses!  My kids think it's a gourmet meal when I pan fry chicken breasts in a little olive oil sprinkled with this.  Garlic Supreme is also great on buttered french bread and in sauces, soups or gravy.
Superb Spaghetti Seasoning Mix:  This is an italian spice blend that combines with tomato paste, oil and water to make a savory marinara sauce.  It is great for food storage because it can be pulled out any time the Prego runs out…but you'll probably find that you just stop buying the bottled stuff and make homemade sauce with this blend that removes the seasoning guesswork.  Easy and delicious!
Pronto Potato Topper:  I love "loaded" baked potatoes, but when I don't have fresh chives, bacon, etc. on hand, I always have this little sprinkle to dress my baked potatoes up.  It makes basic baked potatoes special, and is also great stirred into creamy potato soup.
Cozy Mulling Spice:  A perfect spice and citrus blend to steep in apple cider.  This beats powdered apple cider packets hands-down!  I pour a little bit into a tea ball and simmer it in my cider for a late night treat.  About a tablespoon of the blend offers plenty of spicy flavor for a 1-2 qt. pan of cider.  LOVE IT!
Apple Pie Spice and Pumpkin Pie Spice:  Pretty self explanatory, but I love the convenience of these two blends.  In all of my spice cake or cookie recipes, I just total the spice measurements and use one of these rather than measure the cinnamon, nutmeg, cloves, etc.  It saves time and tastes great.  They also taste great stirred into oatmeal.  And, they can be mixed with sugar and put into a shaker for a spicy addition to buttered toast.
Spices make a fun gift for cooks and Alison's Pantry has a great selection in bulk 1 lb. packaging to choose from.  San Francisco Herbs (www.sfherb.com) has any that AP may not carry, as well as other packaging ideas.  I love to buy herbs and spices this way because I can bottle one jar for myself and one for a gift. 🙂
Tags: Alison's Pantry, bulk spices, food storage gift ideas, three-month food storage