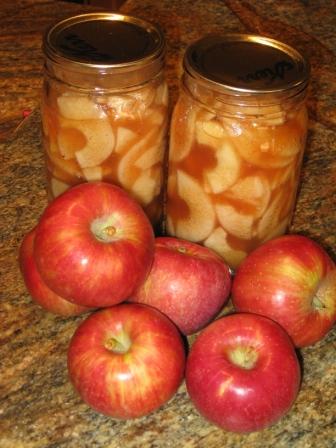 Our local fruit stand had beautiful apples and peaches this year, so we have devoured about a case of each and preserved several other cases in a variety of ways.  We flash froze some of the fruit for smoothies, and bottled apple and peach pie fillings and Spiced Apple Syrup (with diced apple pieces…yum!).  We used Jonathan apples for the pie filling and syrup for their texture and tartness.  The pie fillings make great cobblers (in fact I'm looking for great cobbler toppings if you have a recipe), and they are truly spectacular on pancakes. 
We had never bottled pie fillings before so I scoured the internet for recipes and tips and then made a few alterations.  They turned out absolutely delicious!  Here are the recipes we used:  
APPLE PIE FILLING
In a large pan, mix together:
4 1/2 c. white sugar
1 c. Clear Jel
4 tsp. ground cinnamon
1/2 tsp. nutmeg
Combine and add to dry ingredients:
2 tsp. salt
8-10 c. water (depending on your preference for the thickness of the syrup.  I used 9 cups.)
Stir water mixture into dry ingredients, bring to boil and cook until thick and bubbly. Remove from heat and add:
3 Tbsp. lemon juice
Sterilize canning jars, lids and rings and keep hot. 
Peel, core and slice 6 lbs. of tart, crisp apples.  Pack the hot canning jars with apples, leaving 1″ of headspace.  This is important!  The hot syrup will expand and will leak out of jars if overfilled, keeping them from sealing correctly.
Fill jars with hot syrup, clean jar rims, apply lids and screw rings on tightly.
Process in water bath canner for 20 minutes.
YIELD: 7 quart jars
SPICED APPLE SYRUP
Use the same recipe as above, but substitute apple cider for at least 5 cups of the water.  Dice desired amount of apples.  Stir into syrup and fill jars as indicated.  This will make about 7 pint jars (because you are using less apples).   This makes a sweet gift paired with a homemade Pancake Mix.
I'd love to hear how these recipes turn out for you.  Happy canning!
Tags: apple pie filling recipe, apple syrup, bottling, canning, Food Storage Recipes