For my family, camping is as much about the food as it is about the outdoors.  (I typed the week's menu.) We just returned from a week's vacation in beautiful Pine Valley, Utah and I wanted to share some fun recipes that my family has enjoyed on campouts using food storage staples.  Dehydrated fruits and vegetables and other food storage foods make for great camping fare, and camping is a wonderful opportunity to try out alternative cooking methods.
In the kitchen at home or in the great outdoors, my husband and I believe that having the right tools makes all the difference (i.e., "fun" versus "frustrating").  We like to use dutch ovens, a Camp Chef 3-Burner Stove, and the new toy, a Camp Chef Outdoor Oven.  We have added a "dutch oven table" to our supplies and really like how it makes it easy to cook with dutch ovens at home as well as in the campground. If you're interested in any of these items, be sure to check www.amazon.com or www.costco.com first since they tend to have significant savings on these things. 
Here are some menu highlights from this campout: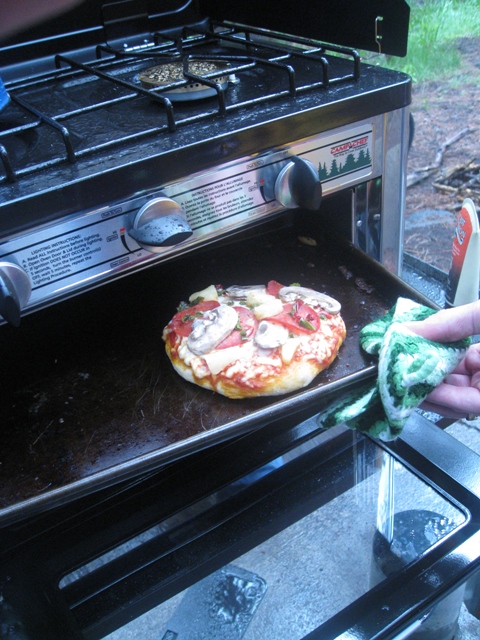 For lunch one day, we baked individual pizzas.  I brought homemade dough (with part whole wheat flour) from home in a ziploc bag, and then rolled out crusts at the campsite.   Everyone was able to customize their own crust with toppings of their choice, including cheese, pepperoni, sliced mushrooms, pineapple and red and green peppers.  The peppers were dehydrated and easy to pack in a plastic bag for the campout.  I just rehydrated them at the campsite and they cooked up beautifully.  We cooked the pizzas in the Camp Chef Oven and they turned out great.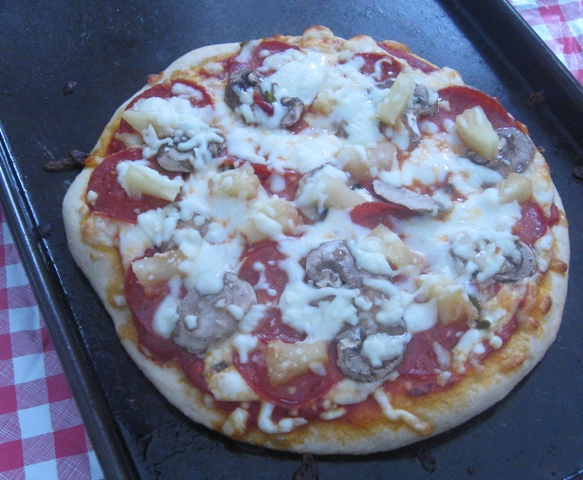 After a successful day of fishing, we grilled trout on the propane stove (with grill box on top).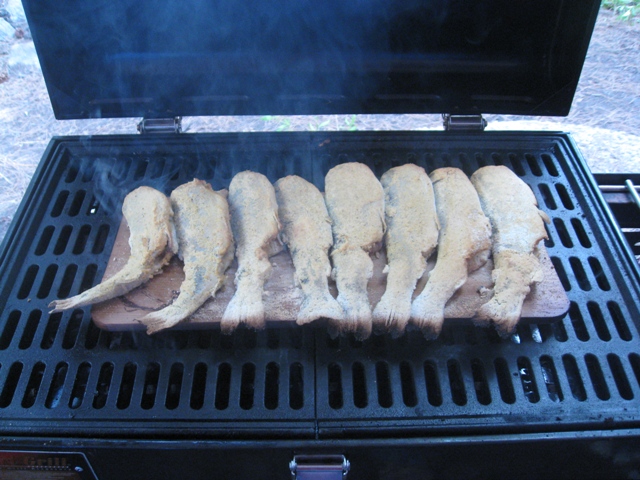 Don't be too impressed, fishing in Pine Valley is cake! It's perfect for kids and impatient adults.  If you fish from the middle of the dam and use Velveeta, the fish will bite as soon as the bait hits the water (literally!).  Anticipating a catch, I brought along a plastic bag with a mixture of 1 cup flour and 1 cup cornmeal seasoned with Garlic Pepper  to dredge the fish before grilling.  We served the fish with instant brown rice boiled on the cooktop of the Camp Oven. 
We used the dutch oven to cook up traditional Dutch Oven Potatoes (we used fresh, but could have used dehydrated potatoes and onions)  that we enjoyed with grilled barbecue chicken and salad.  For dessert, we tried a dutch oven apple cobbler for the first time.  I used a quart jar of home-canned apple pie filling and topped it with a box of white cake mix, some whole pecans and a cube of butter sliced over the top.   This was a surprise hit.  We all thought it was delicious.  Another night, we used the dutch oven to make a pot roast with carrots and onions, and used potato flakes from food storage whipped with cheese and Garlic Supreme for a simple side dish.  I've decided Garlic Supreme is the third essential seasoning with salt and pepper.  I am keeping a shaker of it in my camping supplies because it is so handy for adding flavor to so many recipes.  We had Dutch Oven Peach Cobbler for dessert that night. Yum!  I love the dutch oven cobblers because they are so simple, but they make a special camping treat that I look forward to as much as s'mores. 
As we prepared these meals, I thought about how food storage ingredients and the right tools can really make an unexpected situation much more bearable.  Food storage items are very versatile.  Think of what the pioneers could do with just flour, cornmeal, salt, and oil.  For camping, I love how easy dehydrated foods are to pack and transport.  Camping is a fun excuse to play with what you are storing and find new ways to use these ingredients.
Camping helps us to assess our preparedness supplies as well.  Dealing with an emergency or disaster situation can be a lot like camping.  There may be no electricity for cooking, light, or warmth.  So preparing for a camp-out helps you to think about whether the batteries still work in the flashlights, or if the propane tanks are full.  We store charcoal for dutch oven cooking as an alternative fuel also. Check your storage of water, blankets, rope, mantles for your lantern, first aid supplies, etc.
Take time this summer to get away and enjoy nature's peace, and use the experience to plan for peace in the time of an emergency.
Tags: dehydrated foods, food storage blog, Food Storage Recipes, outdoor cooking, potato flakes