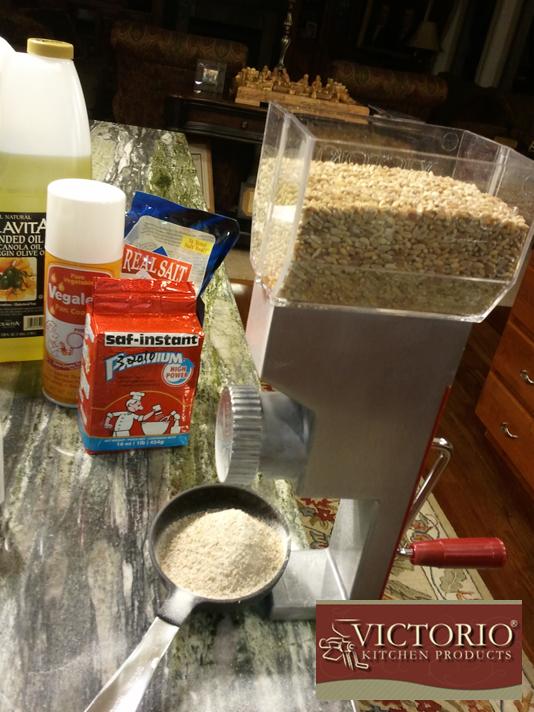 I love my Wonder Mill Electric Whisper Mill
. I've been using it for nearly 10 years now, and grinding beautiful fine flours for all of my baking.  Nothing beats using freshly ground warm wheat flour for a batch of homemade whole wheat bread.  The results are mouthwatering!
Lately, I've been considering which manual grain mill to purchase. Clearly, my many buckets of wheat will not yield the breads my family loves if we were without power. I need a grinder that will work without electricity.  One common complaint with manual grain mills is that they don't easily grind grains into fine flour. The new Victorio Deluxe Grain Mill
seems to be a great solution for grinding grains into fine flours before and after an apocalypse. 😉 This grain mill provides home cooks with the ability to use an attached hand crank, or to add an electric drive motor (sold separately) to grind grains with or without electricity.  It features a large hopper for the grains, and grinds better than previous models. The Victorio Deluxe Grain Mill with electric motor also makes it possible to store only one, more compact mill, versus a hand mill and an electric mill. It's a nice option, especially those who don't grind wheat frequently, but want to have all of the necessary tools to use their food storage.
I will likely still use my WhisperMill for most grinding, because of its speed and ease, since I grind wheat on a regular basis. However, I like that the Victorio model has evolved into this nice compact mill that works great for manual use.  The best price on this item is through Alison's Pantry (at just $86.99 this month) , if you have a Representative in your area.   If you don't, I've linked to this product on Amazon.com from this post so you can purchase one for yourself no matter where you live.
Now bake a batch of heavenly homemade bread and you'll easily convince your husband that the purchase of a new grain mill is a much better investment than a new iPad 3!

Tags: emergency preparedness, food storage, grain mill, new iPad 3, wheat, whole wheat bread