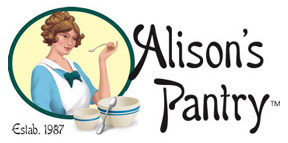 I write about Alison's Pantry products here often, and I know other AP fans visit this site for ideas using their products.  So, I wanted to share a fun contest that Alison's Pantry is offering.  Here are the details:
Want to see your name in lights? We're rolling out the red carpet and giving you a chance to be a star! We're looking for videos of Representatives and customers using Alison's Pantry products. Your video demo should be 3-5 minutes long and clearly feature an AP product or products. For example, show us how you love to use Dole Frozen Fruit in your smoothies, how you customize AP mixes to create special recipes, or how you make everyday meals from AP food storage. Once you've filmed your video, post it to our Official Alison's Pantry Facebook Page. We'll be reviewing the entries and giving away lots of $25 Gift Certificates.
Good luck to all who enter! Sounds fun!