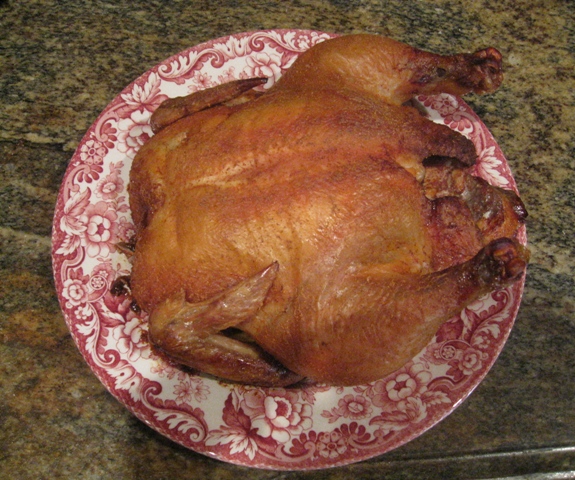 Tonight we tried a new spice blend, AP's Southwest Mesquite Marinade.  Per the package instructions, I added 1 cup water to 1/4 c. of the marinade mix and poured it over a whole chicken.  When I do this again, I will make sure I pour some of the marinade under the chicken skin as well…wish I wouldn't have been in such a hurry or I would have thought of it!  You can also use this spice blend as a rub.  The marinade gave the chicken a nice southwestern flavor without being overpowering.  It also made the chicken skin golden and crispy, which my husband loved.  You'll have to forgive my immodest chicken.  Like I said, I was in a hurry, so I didn't tie up the legs.  Anyway, I admit the presentation lacks a little….class, but the flavor was first rate. 
I only recently learned how easy it is to roast a whole chicken.  Chickens are often available on great sales, and even with my family of 7 (given our children's appetites are still fairly small) we can get 2 meals out of one chicken. For anyone else who may be new to the process, here is how I do it.  Remove any giblets that may be in the chicken's body cavity, and rinse the bird thoroughly.  Place in baking dish breast up.   Cut off both ends of a yellow onion and peel off onion skin.  Place whole onion inside the chicken.  Tie chicken legs together with kitchen twine if you have it.  Rub the outside of the chicken and under the chicken skin with either melted butter or olive oil, and then rub in an herb blend or simply salt and pepper.  Alison's Pantry offers several other spice blends for rubs (that I haven't yet tried, but I think would work great for roasted chicken) including Lemon Rosemary, Barbecue, and Cracked Peppercorn.  Then you just bake the chicken, uncovered, for 1 – 1 1/4 hours at 375 degrees.   When the chicken is done, remove it from the oven, cover it with foil and let it rest for 10 minutes to retain its juices before carving. 
We love this meal.  Tonight we served it with broccoli and sweet potato fries.  Tomorrow we'll be eating the leftover chicken in homemade Chicken Noodle Soup.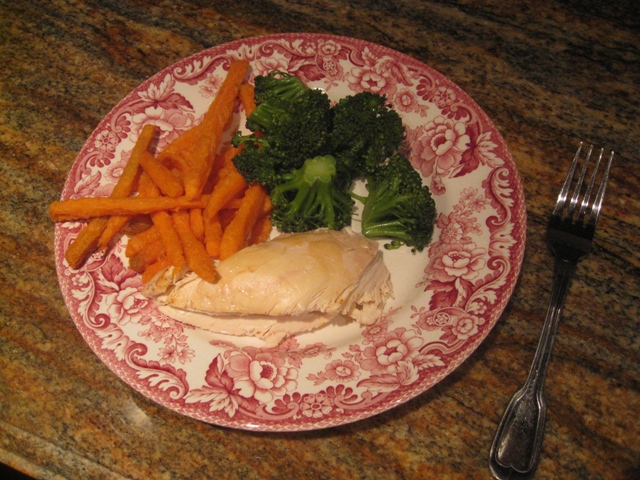 Tags: food storage, Gems in a Jar, roasted chicken, seasonings, spices