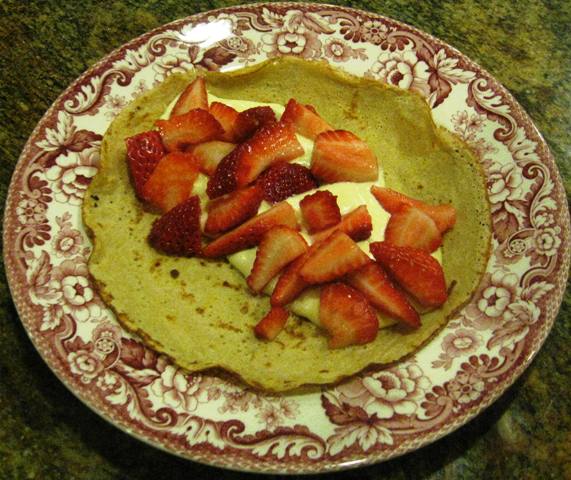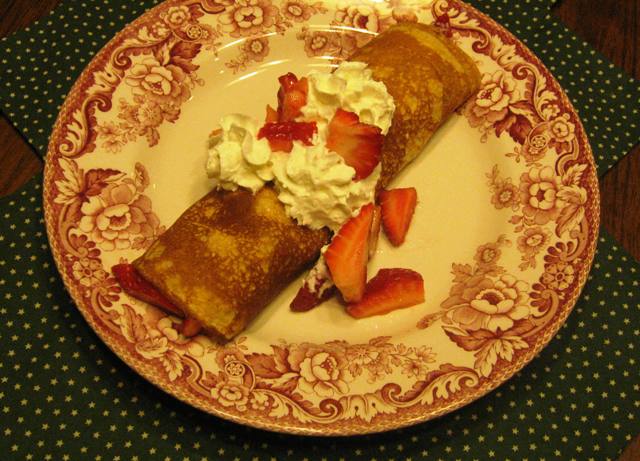 The beautiful fresh strawberries from Costco were begging to be rolled in vanilla mousse and fluffy whipped cream, so I obliged with this family favorite crepe recipe.  I've posted this delicious recipe for whole wheat crepes before, but it's SO GOOD that it's worth reposting.  I think it's the very best way to use any soft white wheat in your food storage.  Of course, it will also work with hard white wheat, but crepes will be slightly heavier. 
This time I made a different vanilla mousse filling that we liked even better, so I thought I would share.  It's so simple, fairly low fat, and YUM-MY!
VANILLA MOUSSE CREPE FILLING
1 large box of vanilla pudding, prepared
1 8 oz. package of light cream cheese, softened
1/2 small container of light Cool Whip (you could use Spiff-E-Whip from your storage)–use more if you'd like
Whip the cream cheese. Then blend in prepared pudding. Gently fold in Cool Whip.
Fry crepe batter.  Then spoon vanilla mousse and plenty of fresh cut strawberries into the middle of each crepe and roll.  You can include whipped cream in the middle of the crepe or over the top to finish them off. Enjoy!!