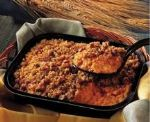 I tease about skipping Thanksgiving just so we can get on to Christmas, but I really enjoy preparing this special family meal.  It's a lot of work, but like many of you who love to cook, I get a great sense of satisfaction from presenting my wares at the kitchen table and hearing my family and friends murmur their pleasure as they indulge. Last year, I posted some of my favorite easy Thanksgiving side dish recipes including Corn Souffle, Orange Jello Salad, Yam and Apple Bake, and Make Ahead Crescent Rolls.  Today I'll share another favorite side dish recipe, and a new recipe I'm trying this year for homemade sugar-free cranberry sauce made with agave nectar.
I mentioned in a previous post that it's a great time to stock up on canned goods and other items for food storage because so many products go on sale for holiday cooking and baking. One of my favorite products to buy in November is stuffing mix.  It lasts at least a year on your shelf and is great to use in casseroles, to crush for nice seasoned crumbs to use in coatings for meat, or simply to prepare as a side dish.  For the big Thanksgiving meal, I like to customize it with this family favorite recipe:
CROWD PLEASING APPLE STUFFING
1 Box (12 ounce) Seasoned Dressing Mix
1 cup chopped celery
1 cup chopped onion
2 tart green apples, cored, cut into 1/2-inch pieces
1/2 cup raisins
½ cup dried cherries
2/3 cup chopped parsley (fresh is best)
¾ cup chicken broth
¾ cup apple juice
1/2 cup melted butter
In large bowl, combine stuffing, celery, onion, apples, raisins, cherries and parsley. Moisten with broth, apple juice and butter, tossing lightly but well. Add more apple juice if needed.
Casserole Method: Place in a 12 1/2 x 9 x 2 1/8-inch baking pan or 3-quart oven-safe casserole dish. Cover and bake at 350 degrees 30 minutes until heated through. To make it crisper, uncover and bake 5-10 minutes longer. Makes 12 to 15 servings.
Cranberry sauce is typically loaded with high fructose corn syrup, so I'm excited to try this all-natural version this year.  I have been using agave nectar for about 5 years now, and specifically Xagave brand , which is a blend of blue and white agave nectars, for about a year.  I love agave not just for of its nutritional benefits, but for its great shelf life for food storage.  It has nearly the same flavor and consistency of honey, but you can keep agave on your shelf for years and it will never crystallize.  If you've never used agave before, you can go to www.allaboutagave.com or www.xagave.com to learn more about this awesome natural sweetener. 
The cranberry sauce recipe is very simple and can be jazzed up to your liking with orange zest, pomegranate seeds, etc.  so I'm excited to try it out. I thought it might be hard to make my own, but there is even a YouTube video demo here to help us out.  I'd love to hear your favorite Thanksgiving dishes.  Please post them!  Enjoy your Thanksgiving meal!
Tags: agave, food storage, Thanksgiving recipes, xagave