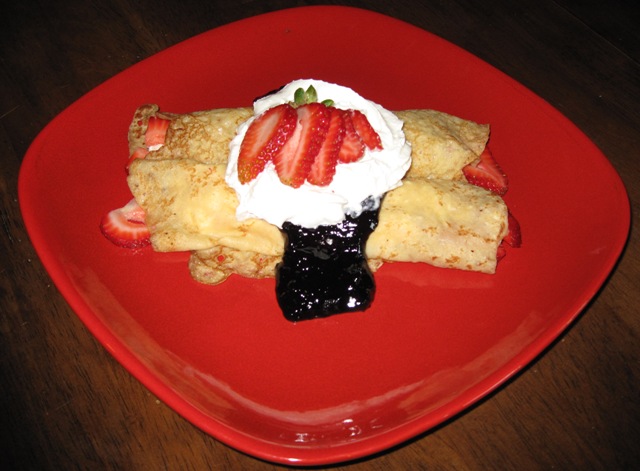 Happy 4th of July!  We're starting the day with a bang with these Red, White, and Blueberry Crepes.  They're a fun, colorful,  mostly-food-storage recipe that each person can customize to their own taste.
WHOLE WHEAT CREPES
In blender, place:
1 c. wheat pastry flour (you can use flour from hard wheat as well, the crepes will just be heavier)
1/4 c. powdered sugar
1/2 tsp. salt
1 c. milk (3 T. dry powdered milk + 1 c. water)
2 eggs (2 T. dehydrated eggs + 1/4 c. water)
Blend until smooth, adding a little more milk if needed to thin.  The batter will be very thin. Pour batter in small amounts into a greased frying pan, swirling pan to make batter into a circle.  Fry crepes on both sides until light golden brown. It's a good idea to grease the pan before frying each crepe. 
Once the crepes are made, the fun begins.  We served sliced strawberries, blueberry pie filling, this yummy cream cheese filling (you can use vanilla pudding if you don't want to mix up the filling) and whipped cream.
CREAM CHEESE FILLING
1 8 oz. pkg cream cheese, softened
1 c. cottage cheese
2 Tbsp. sugar
1 tsp. vanilla
Mix all ingredients together until creamy and fill crepes.
Tags: whole wheat crepes