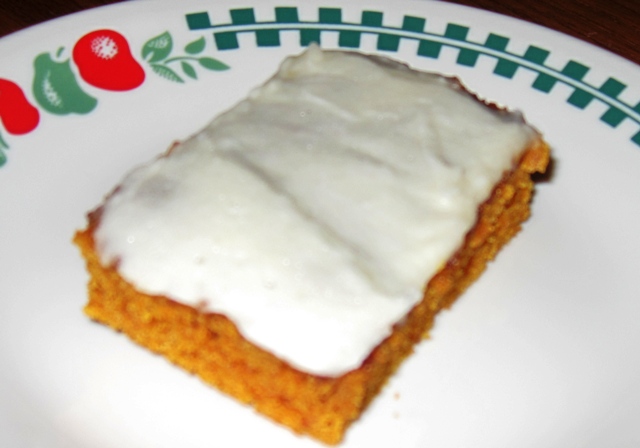 It's just a simple sheet cake, but I love this spicy seasonal recipe.  I stock canned pumpkin in my food storage because it's a healthy addition to baked goods (and I love its flavor). With the exception of the butter and cream cheese in the frosting, you probably have all of the ingredients on hand to whip up this cake, so why wait?  Here's the simple recipe:
PUMPKIN SHEET CAKE
1 can (16 oz.) pumpkin
2 c. sugar
1 c. oil (I used half applesauce to reduce fat)
4 eggs
2 c. all-purpose flour (I'm sure you could substitute at least half wheat flour.)
2 tsp. baking soda
1 tsp. ground cinnamon (I substituted pumpkin pie spice for more flavor.)
1/2 tsp. salt
FROSTING
3 oz. cream cheese, softened
5 Tbsp. butter or margarine, softened
1 tsp. vanilla extract
1 3/4 c. powdered sugar
3-4 tsp. milk
chopped nuts (optional)
In a mixing bowl, beat pumpkin, sugar and oil.  Add eggs and mix well. Combine flour, baking soda, cinnamon, and salt.  Add to pumpkin mixture and beat until well blended. Pour into a greased jelly roll pan (15 x 10 x 1).  Bake at 350 degrees for 25-30 minutes or until cake springs back.  For frosting, beat cream cheese, butter and vanilla in mixing bowl until smooth. Gradually add sugar and mix well. Add milk until frosting reaches desired spreading consistency. Frost cake and sprinkle with nuts if desired.
Tags: Fall recipes, Food Storage Recipes, pumpkin