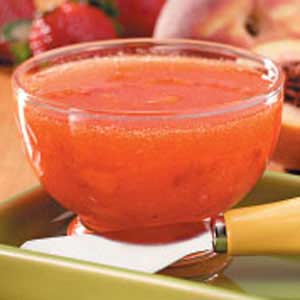 Photo from Taste of Home
Fresh peaches are my favorite fruit. So, after I've eaten my fill of the harvest, I like to find some way of preserving that fresh, fruity flavor for the rest of the year.  I think adding homemade items to my food storage is a treat, and I don't want canning to be a lost art for my children.  We try to make it a family affair so everyone can learn a little pioneer industry! Last year I made peach pie filling and Peachy Vanilla Syrup. This year I combined the fresh peaches with some strawberries from my freezer for Peach Strawberry Freezer Jam. If you're still enjoying peaches in your area, give this recipe from Taste of Home a try. It's a definite keeper!
PEACH STRAWBERRY FREEZER JAM
2 cups sliced fresh strawberries
1 1/4 cups finely chopped peeled peaches
5 cups sugar
3/4 cup water
1 package (1.75 oz.) powdered fruit pectin
DIRECTIONS:
1. In a large saucepan, combine the strawberries and the peaches (I used a food processor to dice the fruit into very small pieces, almost pureed).  Add sugar; mix thoroughly and let stand for 10 minutes.
2. In a small saucepan, combine water and pectin. Bring to a boil; boil for 1 minute, stirring constantly.  Add to fruit mixture and stir for 3 minutes or until sugar dissolves.
3. Ladle into jars or freezer containers.  Cover and let stand overnight or until set, but not longer than 24 hours. Refrigerate for up to 3 weeks or freeze for up to 1 year.
Yield: about 3 1/2 pints (I did 2 batches and got about 12 half-pints)
Tags: canning, Food Storage Recipes, freezer jam, peaches, strawberries