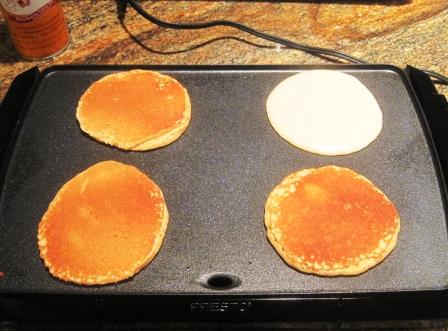 I love serving my family a hot breakfast, but sometimes busy school mornings can make that difficult.  Often I prepare part of a recipe the night before, like combining the dry ingredients for a muffin recipe, or putting oatmeal in the crockpot. So when I found this recipe for "Overnight Pancakes" I knew it had potential for providing hot, healthy hotcakes with minimal effort in the morning. I think it's a winner.
OVERNIGHT PANCAKES
Combine the following in a mixing bowl the night before you want to make pancakes:
1 1/2 c. whole wheat flour
1 egg
1/4 c. honey
1 c. milk
3 T. oil
Allow to sit for at least seven hours, or overnight at room temperature. When you are ready to cook the pancakes, stir in 3 teaspoons baking powder. If the batter starts to rise too much, stir it down. Fry on a hot griddle, and serve with your favorite syrup or topping.