Meat is an essential ingredient in long-term food storage.  Whether you store your meat in the freezer or in cans on your pantry shelves, you'll appreciate the added flavor of good spices to season it for meals.  Here are some great spice blends that I enjoy from Alison's Pantry for meats:
You've likely tried Garlic Salt, but have you tried Garlic Pepper?  It is a spice blend that combines garlic, black pepper, bell peppers and salt for a one-stop seasoning.  It's great for sprinkling on chicken and hamburgers, but perfect for summer camping recipes too.  Stir it into dutch oven potatoes, or combine it with cornmeal and flour in a ziploc bag for dredging fresh-caught trout.  Garlic Pepper is great for enhancing steamed vegetables as well.  Once you try Garlic Pepper, plain old Black Pepper seems boring.
Another seasoning I use often is Ole' Taco Seasoning.  I think this one is a staple for food storage because you can make so many simple meals using it.  Aside from seasoning ground beef for tacos, it's great for adding flavor to canned meats like chunk chicken and beef for enchiladas or meat quesadillas.   I use it often in taco soup, and I love it mixed into the sour cream layer of Layered Bean Dip.  Mmmm….get the chips!
I like Sloppy Joe Seasoning for similar reasons.  With tomato paste and water, it makes ground beef saucy for a delicious, super-speedy weeknight dinner.  If you are used to buying canned sloppy joe sauce, this dry seasoning mix is much more economical and will last longer on your shelf.
Barbecue Spice Blend is a convenient way to quickly season a whole chicken for roasting (like you would buy at a deli), and it makes for delicious leftovers that are great in sandwiches.  (Be sure to rub the seasoning under the chicken skin so it will soak into the meat.)  You can also pour it over meat in the crockpot for tender and spicy shredded meat to serve on fresh greens for a southwestern salad.  Barbecue Spice is also great for adding a nice western flavor to baked beans or roasted potatoes.  Stir some into your favorite homemade barbecue sauce for a kick your cowboys will appreciate!
To dress up fish or chicken, Lemon Rosemary Rub is a tongue-tingling change of pace.  It's light flavor is perfect for summer grilling, but works great any time of the year.  Here's an example of how I use this rub to dress up chicken breasts: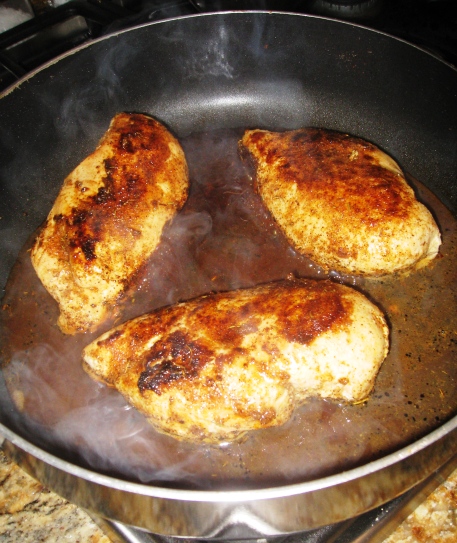 Try this simple meal in a foil packet for a delicious dinner using Lemon Rosemary Rub with almost no clean up:
FOIL PACKET FISH:
Preheat the oven to 450 degrees.  Lay out two large pieces of heavy duty foil.  Place one mild fish fillet (tilapia and cod work well) on each.  Sprinkle with Lemon Rosemary Rub.  Arrange sliced yellow squash and zucchini over the fish and sprinkle with Lemon Rosemary Rub again. Top each pile with a pat of butter and fold the foil up around the fish and vegetables to make a neat foil packet.  Place packets on a cookie sheet and bake for 22-26 minutes or until the fish flakes with a fork.  You can make this meal with salmon fillets as well, just use carrots, broccoli and cauliflower for the vegetables.
Tags: canned meat, food storage, garlic, roasted chicken, seasonings, sloppy joe, spices