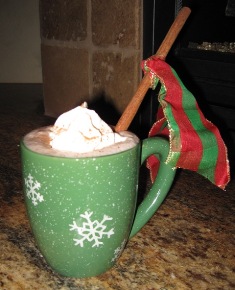 At the top of my list of favorite things, just beneath my family, is hot chocolate.  Sometimes as I'm stirring it, I think I hear Julie Andrews singing.  I fancy myself somewhat of a cocoa aficionado.  I love to try new varieties, and sometimes I mix up homemade recipes.  Sipping a warm mug of hot chocolate is my favorite way to unwind at the end of the day.  Here is this season's first new hot chocolate recipe.  It uses basic, everyday food storage ingredients to make creamy hot cocoa. Most homemade hot chocolate mixes call for coffee creamer, which has a lot of hydrogenated fat.  I like that this one uses powdered vanilla instead.  Homemade hot chocolate mixes make great gifts too. You can package some of the mix in cello bag (or Alison's Pantry bread bag) tied with a pretty ribbon, add a few cinnamon sticks for stirring, and make easy gifts for your neighbors and friends.
CREAMY HOT CHOCOLATE MIX
5 C. instant powdered milk (#1108)
1 ½ c. powdered sugar
½ c. granulated sugar
1 ¼ c. Quality Cocoa Powder (like Guittard Cocoa Powder #4883 in AP catalog)
1 Tbsp. Sweet Vanilla Powder(#1534 in AP catalog)
1 Tbsp. Saigon Cinnamon (optional)
Sift or whisk all ingredients together. To serve, mix ½ c. hot chocolate mix with 1 cup water or milk. (I prefer milk.) Then warm to desired temperature.  Add a cinnamon stick for stirring.
Cinnamon sticks also work well for aromatic Christmas tree ornaments.  Just tie a few sticks together with pretty ribbon and place in the tree (or you can attach a hanger to hang them on the boughs). 
I start thinking about Christmas in January. 🙂 (I confess, I start decorating for Christmas the day after Halloween.)  I love gifts I can make early so that the holiday season is more leisurely. You'll start to see more and more of these ideas since my brain is becoming impatient to share them.  I think this hot chocolate mix makes a cozy, homemade gift and a sweet use of basic food storage items.