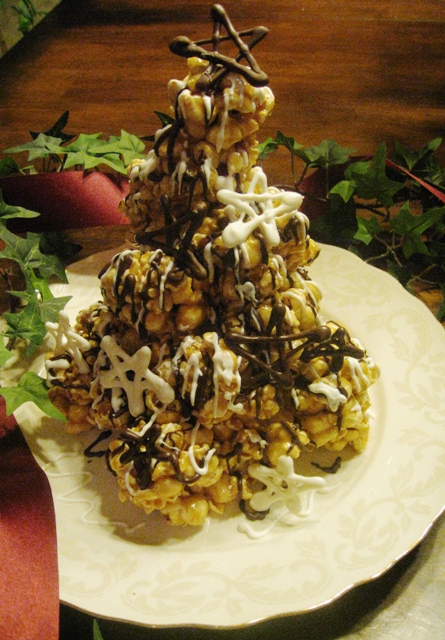 It's like Christmas has come early this year!  My kitchen is full of the kind of candy-making that only happens in December.   I've been playing with Guittard A'Peels, premium chocolate wafers that can be used to drizzle, dip, or otherwise dress up your recipes.  I tried dark chocolate, milk chocolate, and vanilla and every one has rich, melt-in-your-mouth flavor, which is a welcome change of pace from typical waxy dipping chocolate.  I melted the wafers at 50% power in the microwave to temper the chocolate, and then poured it into decorating squeeze bottles.  The picture above is a design my mom created a few years ago that we have enjoyed modifying every year.  It is a Caramel Popcorn Tree that is drizzled with chocolate.  Sometimes we sprinkle chopped macadamia nuts over it as well.  It makes a beautiful centerpiece that guests can nibble on, one popcorn ball at a time.  Tonight, I used the melted light and dark chocolate Guittard A'Peels and they worked beautifully.  I also piped chocolate stars onto parchment paper and then, when they cooled, used them to "decorate" the tree.  I am thoroughly converted to using Guittard A'Peels for all of my chocolate decorating.  Here are my top 3 favorite ways to use them:
1. DIP:  Melt Dark, Milk, or Vanilla A'Peels and let your chocolate creativity flow.  Bake your favorite cookie recipe and dip half of each cookie.  Make Rice Krispie Treats Pops (a square Rice Krispie Treat stuck onto a lollipop stick), and dip in melted A'Peels.  Then sprinkle with chopped nuts, crushed candy or colorful sprinkles. Try dipping marshmallows in Vanilla A'Peels to make "Angel Snowballs" or stacked up to form sweet snowmen.  Stick in an orange sprinkle for a carrot nose.   
2. DRIZZLE: Using a candy squeeze bottle filled with melted A'Peels, drizzle your favorite caramel corn recipe.  Splashy chocolate over brownies or cookies makes a simple recipe look fancy with very minimal effort.
3. DRESS UP: This might be my favorite way to use A'Peels simply because it is so fun.  Place a sheet of parchment or wax paper on a baking sheet and draw hearts, stars, letters, numbers, etc.  Allow the chocolate to cool and harden.  Then carefully peel the chocolate designs from the paper and use them to customize your recipes.  For example, imagine how elegant simple cupcakes can be when monogrammed with chocolate letters standing atop the frosting. 
I finished taking pictures and cleaning up my kitchen and my mind is still running on all the fun things I can use these products on.  Guittard A'Peels will definitely be a staple in my pantry now.  If you want to try them out, they are available from Alison's Pantry in 1 lb. bags for $2.99.