In my last post on dehydrated vegetables, I mentioned that I like to store Dehydrated Vegetable Stew Blend.  I thought I would share a recipe for a simple but hearty soup using food storage ingredients so you could see this handy blend reconstituted. Perfect for Fall, this easy food storage meal is healthy comfort food.
HEARTY FOOD STORAGE SOUP
6 c. beef broth
2 c. Dehydrated Vegetable Stew Blend
1 lb. lean ground beef, browned and drained
1 qt. crushed tomatoes
1 tsp. oregano
1 tsp. basil
1/2 tsp. thyme
pepper to taste
Brown and drain hamburger and set aside.  Combine broth and dehydrated vegetables and bring to a boil. Reduce heat and simmer for about 20 minutes.  Add remaining ingredients and heat through. Taste the soup and allow to simmer until vegetable are the desired tenderness.  My kids liked this soup because the vegetables are diced into small pieces.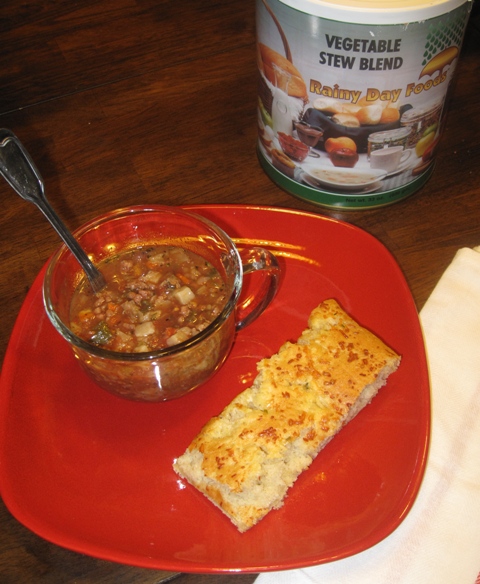 I like to serve it with these quick breadsticks.  I LOVE this recipe, because you can serve fresh breadsticks with dinner even if you don't have a lot of time.
EASY CHEESY PAN BREADSTICKS
Dissolve until foamy:
1 T. yeast
1 1/2 c. warm water
Then add:
2 T. sugar
1/2 tsp. salt
3 1/2 – 4 c. flour (I use half white wheat flour)
Knead for 3 minutes.  Let dough rest for 10 minutes. Spread dough into greased cookie sheet. Then spread with this mixture:
1/4 c. butter (I use Smart Balance)
1/4 c. mayonnaise (I use light mayo)
1/4 c. grated parmesan cheese
1 tsp. Garlic Supreme (or 1/4 tsp. parsley flakes + 1/4 tsp. garlic salt)
Here's the breadsticks at this point: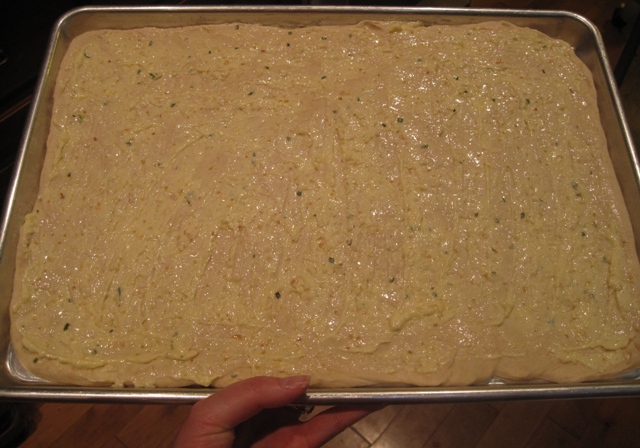 Let the dough raise until it's doubled (you can put it into a warm oven for 15 minutes). Bake at 350 degrees for 20-25 minutes. Cut into strips to make breadsticks. Here's the finished product before it's cut into strips:
Tags: dehydrated vegetables, easy breadsticks, food storage, Food Storage Recipes