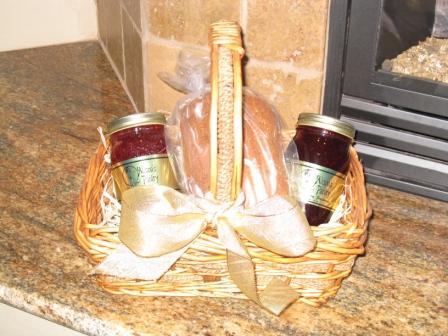 I love homemade bread!  The smell of healthy, home-baked bread wafting through the house brings a great sense of comfort to me.  I loved coming home to this scent as a child, and enjoying the freshly baked bread that my mom had just pulled from the oven.  I hope I am making those same memories for my own children.  Below is my favorite Whole Wheat Bread recipe (I can't believe I haven't posted it already!).  With a Bosch or Kitchen Aid, this recipe is simple.  It makes about 6 / 1.5 lb. loaves. I originally got this recipe from a local kitchen store.  The dough enhancer and vital wheat gluten are key.  They make the whole wheat bread soft and absolutely delicious! I also use freshly ground hard white wheat for the flour, and this provides a mild flavor while retaining all of the nutrition of whole wheat. (My neighbors rave about it!) To cut down on sugary sweets, I gave loaves of this bread with homemade jam for Christmas neighbor gifts. If you don't have homemade jam in your pantry, you can give something like the Alison's Pantry jams pictured above, or some whipped honey butter.
WHOLE WHEAT BREAD
2 Tbsp. SAF Instant Yeast
2 Tbsp. Vital Wheat Gluten
2 Tbsp. Dough Enhancer 
Whole wheat flour (about 10 cups)
6 C. warm water
2/3 C. oil
2/3 C. honey
2 Tbsp. salt
In a mixing bowl with dough hook, add yeast, vital wheat gluten, dough enhancer, 4 cups whole wheat flour, and water. Gently blend, then add oil, honey, and salt. Add more flour while blending until dough comes together and begins to pull away from the side of the bowl. When the sides of the mixing bowl stay clean, continue kneading for 10 minutes. This will develop the gluten and negate having to raise the dough multiple times for a light bread.
After 10 minutes, take the dough out of the bowl and place on a clean greased cookie sheet or countertop. Divide the dough into portions to suit your bread pans. Spray pans with Vegalene  or Bak-Klene Bread Pan Coating. Mold dough portions into smooth loaf shapes and gently place into pans. Let bread rise for 30 minutes or until a nice rise above the edge of the pan.
Bake in a preheated 350 degree oven for about 35 minutes or until golden brown.  I get 6-7 loaves out of this recipe.
I spray the tops of the bread with a little Vegalene to give it a bakery shine, and store it in Bakery Bread Bags (#5494), which are on sale this month for $3.99.
Tags: Christmas gift ideas, Food Storage Recipes, hard white wheat, whole wheat bread recipe