Dehydrated products aren't just for dark closets.  My philosophy on food storage is that the time to start experimenting with, and integrating our long-term storage foods into our weekly menus is now.  Not when resources are limited, or products cannot be replaced.  Can you imagine the frustration of trying to learn to cook something new in a disaster or otherwise stressful situation?  And then hoping your family won't opt to starve versus trying your dinner creation? Long-term storage foods are actually really easy to use and highly nutritious.  In large part they are products that get back to the basics with whole grains, fruits and vegetables. 
If you've dutifully collected the amounts of grains, legumes, flour, sugar, oil, and salt needed for your family's storage, it's time to think about adding in fruits and vegetables.  Freeze-dried and dehydrated products retain much, much more of their nutrients than do canned or even frozen produce.  They are a bargain, lightweight, and more compact to store than their water-packed counterparts. Using dehydrated produce removes the need to wash, pit, peel and dice, so it can be a real time-saver.  However, depending on how you are using the product, it may be necessary to plan ahead to allow time for the product to rehydrate.  In many circumstances, dehydrated vegetables can be added as-is to your recipes.  Dehydrated onion flakes are one example.  I use dehydrated onions so often, I almost don't consider them part of my food storage.  I spare myself the tears of chopping fresh onions and use the dehydrated version in soups, sauces, casseroles, etc..  Here is one of my favorite recipes using them:
CANDIED CHICKEN
3 c. brown sugar
1/4 c. prepared mustard
1 c. ketchup
2 Tbsp. Worcestershire sauce
1/3 c. dehydrated onion flakes
1 tsp. salt
1 1/2 c. water
Combine all ingredients and pour over 4-5 chicken breasts in a large casserole dish.  Cover with foil and bake for 1 1/2 hours at 350 degrees.  This makes a lot of sweet sauce that can be served over rice.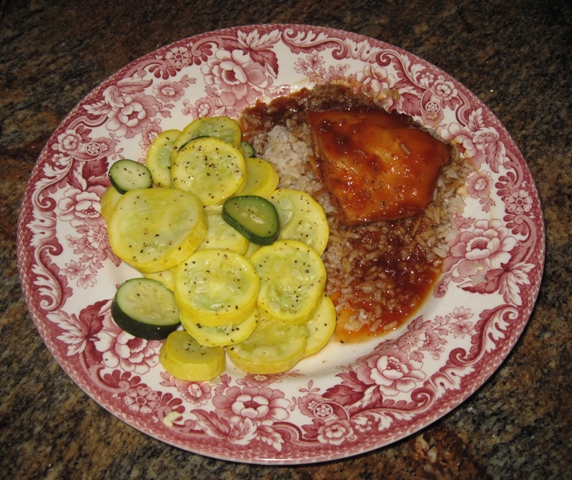 There are a lot of dehydrated products that make regular appearances in our family meals.  My previous posts show my love for dehydrated apples and dehydrated bell peppers.  We eat potato flakes (reconstituted of course) at least once a week.  I store a dehydrated vegetable stew blend that includes diced potatoes, cabbage flakes, onion, carrots, celery, bell peppers and tomato flakes.  Added to beef stock, it makes an easy soup or stew.  You can vary the recipe with the additions of meat, rice, pasta or other vegetables.
To purchase these or other dehydrated fruits and vegetables, here are my top three choices for the best prices:
1.  Alison's Pantry.  Visit the site to see if there is a distributor in your area.  Alison's Pantry sells a wide variety of restaurant quality foods as well as bulk grains and dehydrated storage foods in #10 cans.  Orders are placed with local distributors and then paid for and picked up the next month. This is where I order the dehydrated stew blend mentioned above, and also bulk bags of brown rice.
2. San Francisco Herb Company.  This is a great place to do some sampling.  The dried vegetables come in 1 lb. bags so you can order a variety to experiment and see what your family prefers before investing in larger amounts.  They even sell interesting products like coconut milk powder and spinach flakes, so you can make your own version of Great Harvest's Spinach Feta Bread.
3. LDS Home Storage Center. For potato flakes, carrots, onions, and apples, the prices can't be beat.  Of course, you'll have to can them yourself.  Click on the link to see the items that can be ordered pre-canned online.
Tags: Alison's Pantry, dehydrated fruits, dehydrated vegetables, freeze dried, long-term food storage