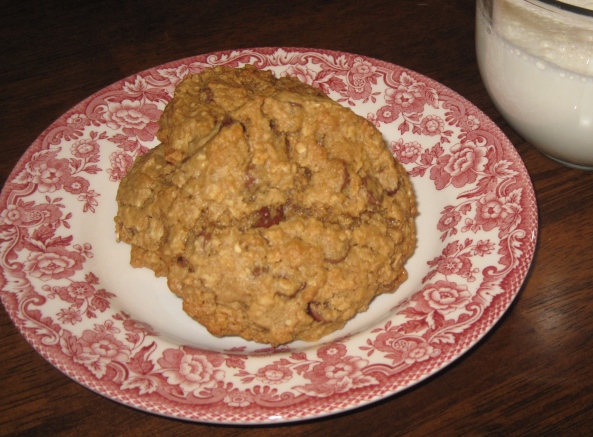 Food storage staples like whole wheat, oats, and molasses never tasted so good!
I don't know anyone who doesn't like chocolate chip cookies.  For years, I have baked a family-favorite recipe named after a boy I had one date with.  He prided himself on his chocolate chip cookies and named the recipe after himself.  The cookies are quite good so for nearly 17 years, the name has stuck.  So, I imagine my husband will be delighted that I have finally found a replacement for "Kurt Palmer Chocolate Chip Cookies."  Sorry, Kurt, but this recipe is my new favorite, and it's healthier ingredients make it much easier on the waistline for future reunions. I think the recipe is a copycat of Great Harvest Bread Company's Chocolate Chip cookies, but they seem thicker than the ones sold in my local store so I actually like them better.  The recipe is 100% whole wheat and includes oats for double the whole grains.  I made it with Smart Balance instead of butter to lower fat and it worked like a charm.  I love the little addition of molasses too.  It really adds a nice flavor and I think helps to keep the cookies so chewy.  I also used Guittard Milk Chocolate Chips, which I love because they are so rich and creamy (and my hubby prefers milk chocolate to semi-sweet).  The hearty grains and molasses in the recipe give it the flavor of a special treat you might find in an old-fashioned mercantile.
GREAT HARVEST CHOCOLATE CHIP COOKIES
2 c. whole wheat flour
1 tsp. baking powder
1/2 tsp. baking soda
1/4 tsp. salt
2 c. brown sugar, packed
1 c. butter
2 c. rolled oats
2 eggs
2 tbsp. molasses
1 tbsp. milk
2 c. semisweet chocolate chips
Combine flour, baking powder, baking soda, and salt.  Cream brown sugar and butter until well combined.  Add oats, eggs, molasses, and milk and beat well.  Add dry ingredients to creamed mixture and stir until blended.  Fold in chocolate chips.
Using a 1/4 cup measuring cup (or muffin scoop), scoop dough and drop onto nonstick-sprayed cookie sheets about 3 inches apart. Bake at 350 degrees for 12-13 minutes, until cookies start to brown on the edges.  Cool 2 minutes on the pans and then remove the cookies to a cooling rack.
Makes 24 big cookies
NOTES: This recipe is really versatile.  Use your imagination and any combination of white chocolate chips, butterscotch chips, nuts, raisins, chopped dried cherries or craisins to create a new cookie every time. ENJOY!
Tags: chocolate chips, Food Storage Recipes, oats, whole wheat