One of my favorite food storage ingredients is dehydrated apples.   They are time-savers because they eliminate the need to wash, peel and cut apples, and they are delicious added to so many recipes.  Today I used them in this Apple Puff Pancake recipe.  It's similar to a German Pancake, just a little less egg-y, and spiced up with apples and apple pie spice.  Since German Pancakes were the breakfast of choice for my teenage sleepovers, this recipe brought back fun memories.  (Tammy, I think you'll like it!)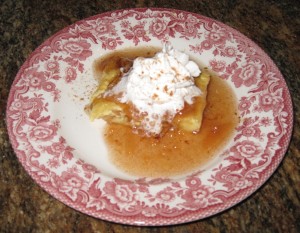 APPLE PUFF PANCAKE
1 cup dehydrated apple slices  (broken into bite-size pieces and rehydrated in 1/2 cup hot water)
1 Tbsp. butter
1 Tbsp. sugar
1/2 tsp. apple pie spice
3 eggs (or 3 T. dehydrated eggs + 1/3 cup water)
1/2 cup flour
1/2 cup milk
1/2 tsp. salt
Preheat oven to 400 degrees.  Squeeze any excess water out of apples and saute in a frying pan with butter, sugar and apple pie spice until well coated.
In a blender, whip eggs, flour, milk and salt on high for one minute.  Place hot apples in a greased 8 x 8 pan.  Pour batter over apples. Bake for 15 minutes. I served mine with some Spiced Apple Syrup that I had on hand , but it's great with maple syrup as well. YUM-MY!!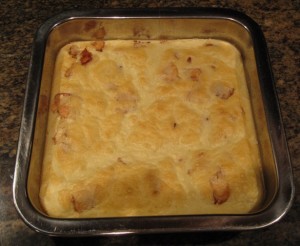 I love Apple Pie Spice for storage.  I buy it in bulk 1 lb. packages from Alison's Pantry. If you've tried Cinnamon Plus from Pampered Chef, I think Apple Pie Spice is basically the same blend (cinnamon, ginger, nutmeg and cloves) for a much better price.  I like the depth of flavor and use it in place of cinnamon alone in most recipes.
Tags: dehydrated apples, dehydrated fruits, Food Storage Recipes, spices