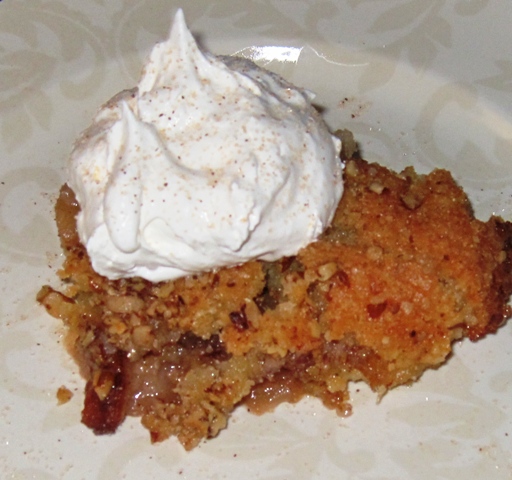 My kids are generally less than enthusiastic about pie for dessert, but this new recipe for Swedish Apple Pie was a definite hit.  Instead of a traditional crust, the spiced apples are topped with a buttery, crunchy nut topping that makes the dessert seem more like a cobbler than a pie.  I photographed it with whipped cream and Cinnamon Vanilla French Toast Sugar on top, but I found it's really stellar with a scoop of vanilla ice cream.  If you are still enjoying the apple crop, this recipe is a must.  I'm considering it for Thanksgiving as well. This can easily be made with reconstituted dehydrated apples to utilize it as a food storage recipe.  Try it out and let me know what you think.
SWEDISH APPLE PIE from Dianne Lauffer in Family Fun magazine, November 2009
Filling:
2/3 c. raisins (I left these out)
3 medium apples (about 2 2/3 cups), any baking variety, peeled and sliced–use a spiral apple peeler to really save time)
1 Tbsp. sugar
1 tsp. cinnamon
1/8 tsp. nutmeg
Topping:
3/4 c. butter or margarine (I used Smart Balance)
1 c. flour
1 c. sugar
1/2 tsp. salt
1 egg, beaten
1/4 c. chopped walnuts (I used pecans)
Vanilla ice cream or whipped cream
Heat oven to 350 degrees.  Soak the raisins in hot water until they plump. Drain, then combine with apple slices. Transfer the fruit to a 9-inch pie pan (it should be no more than 2/3 full). In a small bowl, mix the sugar, cinnamon and nutmeg (I used a tsp. of Apple Pie Spice in place of the cinnamon and nutmeg in the recipe). Sprinkle over the fruit.
To make the topping, first melt the butter and set it aside.  In a separate bowl, stir together the flour, sugar, salt, and egg until they are evenly blended.  Whisk in the butter, then spread the topping over the fruit and sprinkle on the chopped nuts.  Bake the pie until golden brown, about 40 minutes. Serve it warm with vanilla ice cream or whipped cream. 
 The recipe says it feeds 10, but they must have figured on more dainty pieces than we devoured. 🙂 We got about 8. Enjoy!
Tags: apples, Food Storage Recipes, spices