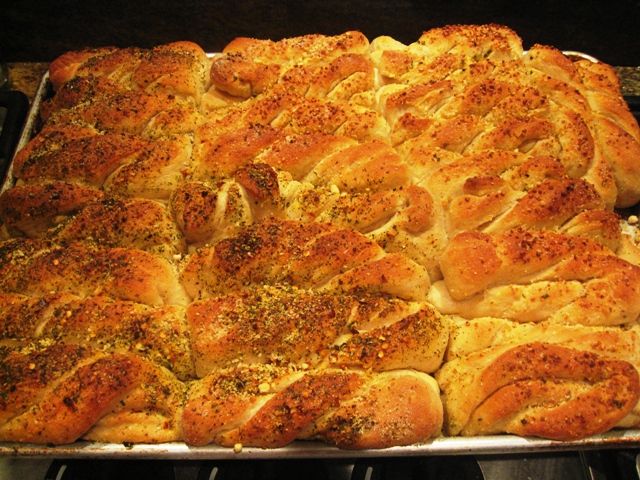 I know, it's swimsuit season.  But I can't resist a post on my favorite food group: breads. (So, they actually share a food group with grains and pasta…it's a formality.)  It is starting to really heat up in the Utah desert and I am already looking forward to Fall.  Baking homemade breads not only makes the house smell fantastic, but it brings out all those nurturing, womanly kind of feelings in me. I love to see the family migrate to the kitchen for the first bites from the oven.  Here is a recipe my family loves for soft, fluffy breadsticks.  They use basic food storage ingredients, and are definitely worth breaking a diet.
FLUFFY BREADSTICKS
3 Tbsp. SAF yeast
3 Tbsp. sugar
3 tsp. salt 
6-7  cups flour (I substitute 2 cups with whole wheat flour and add 1 Tbsp. dough enhancer)
3 cups warm water
Mix yeast, sugar, salt, and 3 cups flour.  Add warm water.  Gradually stir in 3-4 cups more flour until dough pulls away from the sides of the bowl.  Dough should hold together well, but still be soft and not dry.  Knead 8-10 minutes.  Leave in warm spot for 30 minutes; punch down.  Divide dough in half.  Roll dough into a rectangle and slice dough into 1/2″ strips.  Fold strips in half and then half again.  Twist while pulling softly.  Dip twists into a bowl of melted butter and place on greased baking sheet. Sprinkle with seasoning of choice and bake at 400 degrees for 15-20 minutes. We like to sprinkle ours with either Garlic Supreme or Tony's Pizza Topping Blend and then shake parmesan cheese over the top.  To make them sweet, we like to use Cinnamon Vanilla French Toast Sugar. This recipe works well for sweet rolls as well, so often I make a cookie sheet of breadsticks and a small pan of  orange rolls.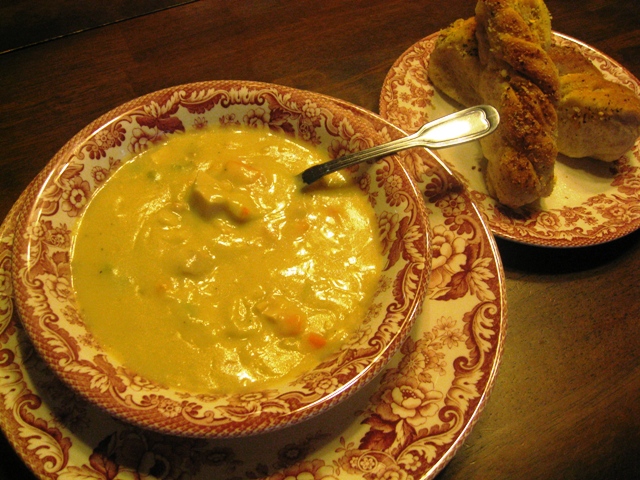 We enjoyed this recipe last night with a bag of Flav-r-Pac Chicken and Dumplings Soup from the freezer.  Chances are you've tried Flav-r-Pac soups without even knowing it at your favorite deli or cafe.  They are a commercial grade frozen soup with high quality meats and vegetables.  I love having them on hand for a fast meal.   I have a funny little story about the Chicken and Dumplings Soup.  Ever since I first served it, my kids have been asking me to "make that yummy soup again."  I have to keep explaining that I just poured it from a bag into a pot.  Flav-r-Pac Chicken and Dumplings might be one of my most requested "recipes."  It is a rich, creamy soup with a generous amount of chunky tender dumplings.   These frozen soups are perfect for Fall gatherings.  Just choose 2 or 3 varieties to serve with an assortment of fresh breads for a low-effort menu.
Tags: breadsticks recipe, bulk spices, Fall, food storage, soup