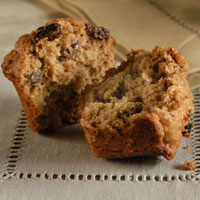 You may have noticed…I'm a big fan of breakfast.  This recipe is one of my favorites because I can mix it up anytime and the batter will last up to 6 weeks in the refrigerator, yielding hot healthy muffins even on hectic school mornings. It's a great use of the buttermilk powder in my food storage too.  I don't buy cartons of buttermilk anymore.  Powdered buttermilk is the way to go!  No waste–just mix up what you need–and I love that I always have some handy when I have a craving for this muffin recipe!
SIX WEEK BRAN MUFFINS
5 cups raisin bran cereal
4 cups flour (you can use half whole wheat)
1 cup wheat germ
5 tsp. baking soda
3 cups sugar
2 tsp. salt
1 tsp. cinnamon
1 cup chopped pecans
1 cup oil (or 1/2 cup applesauce + 1/2 cup oil)
4 beaten eggs
1 quart buttermilk (I use powdered buttermilk)
Mix dry ingredients. Add liquids. Stir very well. Cover and keep in refrigerator in large Tupperware container for up to 6 weeks.  Bake at 400 degrees in sprayed muffin tins for 20 minutes.
You can also add chopped apples, blueberries, or dried fruit to the batter right before baking.  I sprinkle the chopped apple on top and press into the batter.  You don't want to mix fruit into the big container of batter because it will brown before you use the whole batch. Add just before baking.
Tags: baking, Bran Muffin Recipe, bran muffins, breakfast, Food Storage Recipes, Gems in a Jar, healthy eating, powdered buttermilk