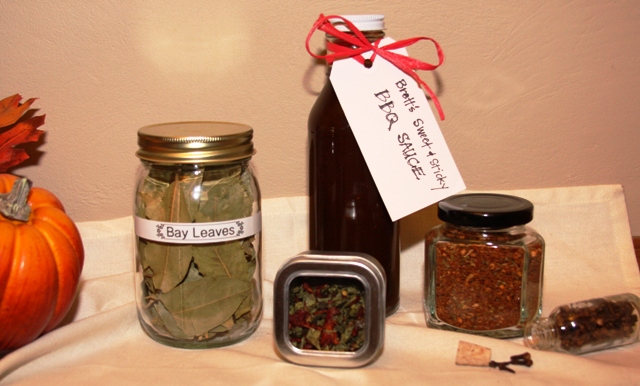 I mentioned SKS Bottle & Packaging several weeks ago as a great site to purchase jars and bottles in a variety of sizes.  I received the sample containers above and immediately began debating what would go into their fun shapes.  SKS has a wonderful selection of jars for storing just about anything, but I love their unique containers for gifts from the kitchen.  If you dry your own herbs, you'll love the little clear glass bottles with cork closures.  They will keep your home-grown treasures fresh, and add style to your spice cupboard. I also like the hexagonal glass jar for storing herbs and spices.
My husband makes great homemade barbecue sauce, so I was excited to see the sauce bottles that are perfect for homemade sauces or marinades. You can even dress them up with a custom label from your home printer, and give them as a unique gift.
If you make cookie or brownie mixes in jars for the holidays, SKS has nice prices on basic jars with gold metal caps.
To add a little beauty to your food storage and homemade recipes, check out SKS Bottle.
Tags: food storage, jars