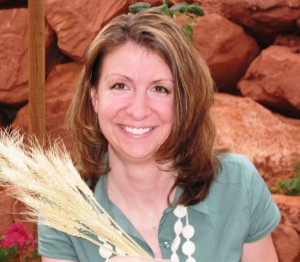 I'm a busy wife and mother of five children who has always had a passion for food. I love to cook and bake.  Now that I am responsible for my own family, I really see the importance of building a food storage…and knowing how to use it.  The web offers a wealth of great food storage and preparedness resources, but I hope my site serves as a sort of "girlfriend's guide" to these topics with first hand reviews of food storage and preparedness products and recipes.  Hopefully it saves you time and money if I try it first!  I'd like this site to become a community of like-minded people where we can share resources, ideas, and recipes and direct each other to useful information on home food production.  I think all of these things help us prudently prepare for life's challenges, or possible disasters.
Through All About Food Storage, I met Alison Chuntz, owner of Alison's Pantry, and she hired me as her company Sales Manager.  So, I review a lot of products that Alison's Pantry offers and many of our Representatives visit the site for ideas.
I'm a "foodie."  I product test and review food products, cookbooks and kitchen equipment.  You'll see these reviews under Test Kitchen. If you have a product you'd like me to try, and review on my my site, please e-mail me.